The Ram Promaster

If you are looking for a sleek, innovative cargo vehicle that has the answer to all of your company's transportation needs, then the Ram ProMaster cargo van is the answer you are looking for. This brainchild came about as a collaboration betwixt Fiat and Chrysler, and combines the sleek-streamlined look of Europe and the rough and tumble attitude of the United States into an amazing durable cargo van. There are 14 different configurations available, as well as having eight different colors to choose from. This vehicle is versatile and perfectly designed to meet any business needs.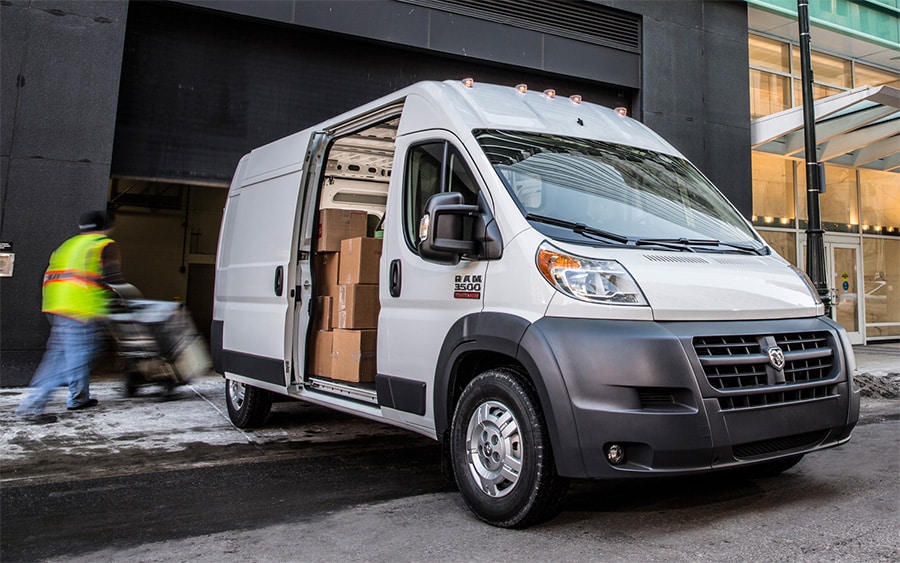 From the best-in-class 36 ft turning circle to the whopping 460+ cubic feet of cargo capacity, this van can certainly carry anything you throw at it with room to spare. In addition to versatility and space, this cargo van can also tow up to 5,100 lbs and carry 4,430 lbs of equipment, tools and other bits needed. With rear doors that open a full 260 degrees, there is nothing to hinder cargo during the loading and unloading process. In addition, the ProMaster's sliding door rolls on an external stainless track, and thanks to the 49 inch wide, 60 inch tall opening, you can easily insert one pallet in the side and one in the rear.

It has a 6 speed automatic transmission and the award-winning 3.6L pentastar V6 delivers Best-in-Class standard v6 power+. The 280 HP and 260 lb ft. of torque give you power without giving up efficiency.