The Dodge Durango


Though the Dodge Durango has long been classified as a midsize sport-utility vehicle, its designers actually made it a half-size larger in order to fill the niche between the midsize SUV and full-size SUV classes. In this case, the Dodge Durango is often just the right size for those folks who need more interior room and towing capability than a typical midsize SUV can deliver while not being as bulky, cumbersome or hard to park as a full-size SUV.
Plenty of Seating
The Dodge Durango's hefty dimensions pay dividends inside, where unlike most midsize SUVs, up to three rows of seats are available. Up until 2011, the truck-based Dodge Durango had a burly body-on-frame architecture. However, a recent redesign has brought about a more efficient carlike unibody construction with notably improved ride and handling dynamics.
Available Trim
Four trim levels are offered: the well-equipped Dodge Durango Express, Dodge Durango midlevel Crew, plush Dodge Durango Citadel and sporty Dodge Durango R/T. Either a V6 or V8 engine is offered. The current 3.6-liter V6 has some muscle -- 290 horsepower and 260 pound-feet of torque. Standard on the R/T and optional on the Crew and Citadel is a 5.7-liter V8 good for 360 hp and 390 lb-ft of torque. A five-speed automatic transmission is standard for both engines. One may also choose among rear-wheel drive, all-wheel drive (V6 only) and four-wheel drive with added low-range gearing (V8 only).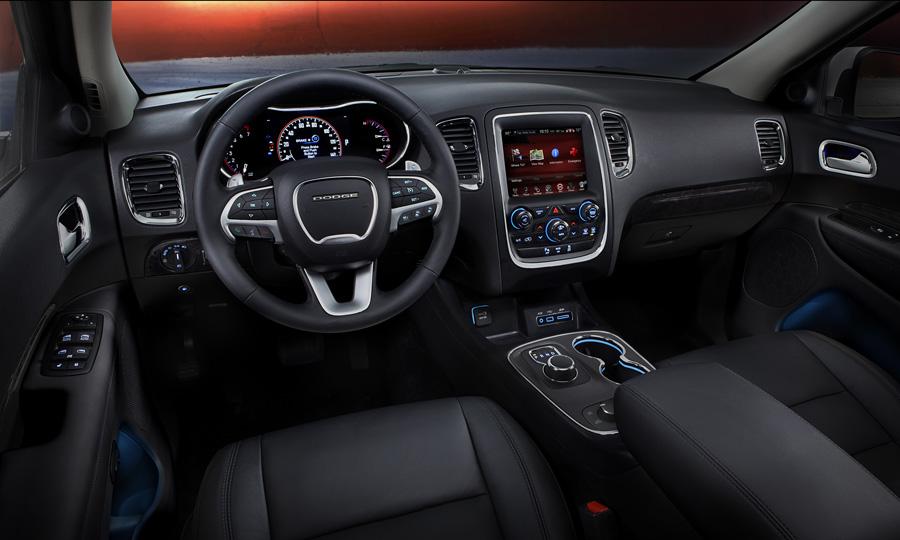 Performance
We've found the new Dodge Durango confident in terms of handling while still providing a composed and comfortable ride over bumps and ruts. Not only is it vastly better to drive than past Dodge Durangos, which feel ancient by comparison, but most of its large crossover competitors as well.
Interior
Inside, the Dodge Durango offers an attractive and upscale design, with class-competitive quality. The second and third rows offer enough room for most families (the rearmost row can even comfortably sit 6-foot adults).