The Ram 3500


Upholding its promise to honor "real truck customers," the Ram 3500 is a pickup with hauling strength and monstrous power that pulls ahead of the famed Ford/GM/Ram truck arms race. The Ram 3500 is highly customizable, offering 3 engines, 3 cabin and 2 bed sizes, and a multitude of trims to choose from depending on how much power and space you need.

Upgraded Muscle
With a truly astounding 30,000 - lb twoing capacity and a standard-equipped 5.7L HEMI v8 powertrain, muscle is not missing from the equation. While the base engine is already equipped to tow, one of the other new highlights of the new model is the optional 6.7L Cummins turbodiesel engine that boasts a massive 800lb-ft of torque. Amongst the competitive market of turbodiesel trucks, the 3500 stands out with the addition of this monster machine.

As mentioned earlier, the 3500 features 3 engines to choose from if the turbodiesel isn't for you. Aside from the standard 5.7-liter V8, the next step up for a boost of power is the new for the model year 6.4-liter V8, which features 410 hp and 429 lb-ft of torque-but for the tough jobs, with up to 370 hp the Cummins is the go-to engine, equipped with a big-rig-like exhaust brake providing stability and stopping power for extra heavy loads.

However, the Ram 3500 doesn't compromise comfort for capacity. Last year's leaf spring suspension is replaced by coil springs, allowing for a smoother ride. Also designed to improve ride comfort and towing, an air suspension is newly available. The interior of the premium Laramie Longhorn trim exudes Texas-style American luxury with the Big Horn Package, sporting genuine cow hide accents on the seat backs and doors and subtly lacquered wooden trim on the dash.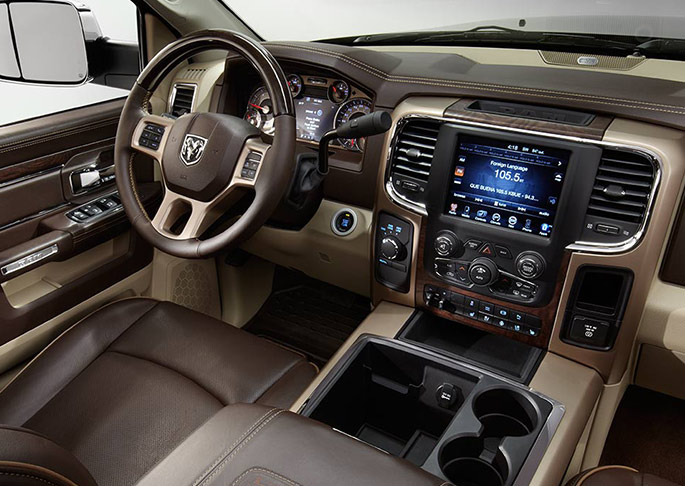 The Longhorn model also hosts a horde of technology like wireless hotspot capabilities, satellite radio, and Chrysler's 8.4-inch Uconnect 2 Touchscreen for easy navigation. It also comes equipped with voice controls and Access, which is Chrysler's version of GM's OnStar emergency application. For those who would like a little less bling with their muscle, the base trims like the Tradesman model are only equipped with the essentials so you can focus on the haul.
Overall, the Ram 3500 gives you the versatile power options you need to get the job done. The 30,000 pounds of towing strength is a tantalizing number that will have you taking care of your toughest hauls with classic American styling only capable of a pickup.