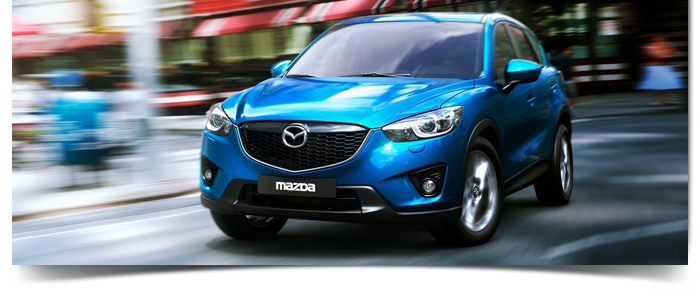 NewCX-5 Inventory  |  Used CX-5 Inventory  |  View Incentives
The CX-5

The Mazda CX-5 is a newer vehicle to the Mazda family but it is still fully equipped to provide you with a comfortable, safe driving experience. With elements like brake support laser technology, new system warnings also help the driver respond to collisions and potential crashes.
The 2014 model is available with front or four wheel drive as a 5-door wagon. With four different editions, from Touring, Touring AWD, Grand Touring and Grand Touring AWD, the vehicle is also available as a 6-speed automatic with a manual shifting mode.
Fuel economy varies by the specific model, with the front wheel drive option averaging an estimated 25 miles per gallon in the city and 32 miles per gallon on the highway. The all-wheel drive model averages an estimated 24 miles per gallon in the city and 30 miles per gallon on the highway. The EPA fuel-economy ratings are near the top of the class for similar models. Compared to similar models, yearly fuel savings are available with the 2014 Mazda CX-5.
Many other options are available depending on the vehicle's class. The Mazda CX-5 Mid-level Touring model has a power driver's seat, a standard back-up camera to avoid running into anything or any person, blind-spot monitoring, bright fog lamps, a superior audio system and Bluetooth capabilities.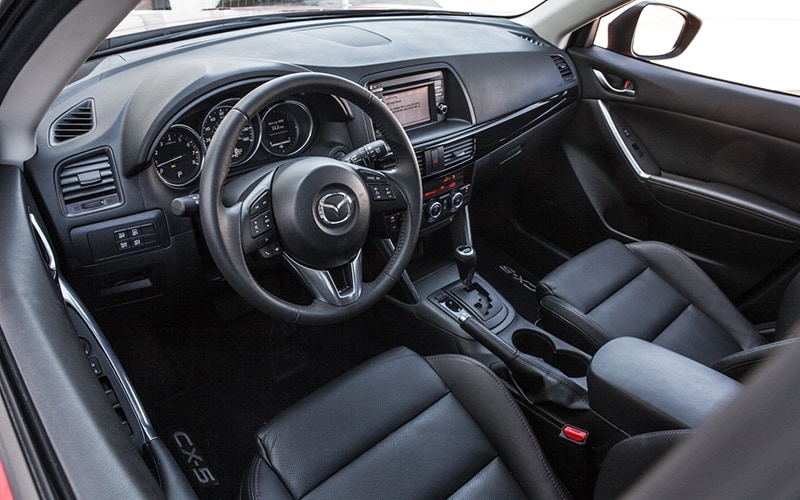 Leather-wrapped steering wheel options and a split-folding rear seat also make the Mazda CX-5 Mid-level Touring model the perfect mix of functional class. As a compact, crossover, fuel-efficient sport utility vehicle, the car also delivers all-weather capabilities with advanced features. Rain-sensing windshield wipers and the ability to play music through the vehicle's Bluetooth capabilities also round out the many new and advanced technological features available on the 2014 model.