The Jeep Patriot

Taking on the Challenge
Jeep's Trail Rated 4x4s go through exhaustive field testing for traction, maneuverability, and articulation to ensure performance and control on treacherous roads. Flexibility built into the suspension and a generous wheelbase keep wheels in contact on uneven ground. With ground clearance and water forwarding features, such as a sealed central vent system, they help protect drivetrain elements from moisture.


The Patriot offers three trim levels, the Sport, Latitude, and Limited, that feature classic Jeep exterior characteristics like the seven-slot body-color grille and trapezoidal wheel wells. The Altitude (mostly a cosmetic package, adding a blacked-out exterior and wheels, as well as cloth/vinyl upholstery to the Sport trim) has an optional fuel-efficient CVT (Continuously Variable Transmission) that autoshifts, cycling up through the gears to find the most effective combination of speed and fuel efficiency.
Challenging off-roading or snowy driving conditions are met with notable safety features like front seating side air bags and side curtain bags along with Patriot's Electronic Roll Mitigation safety system whose motion sensors can predict a potential rollover and adjust.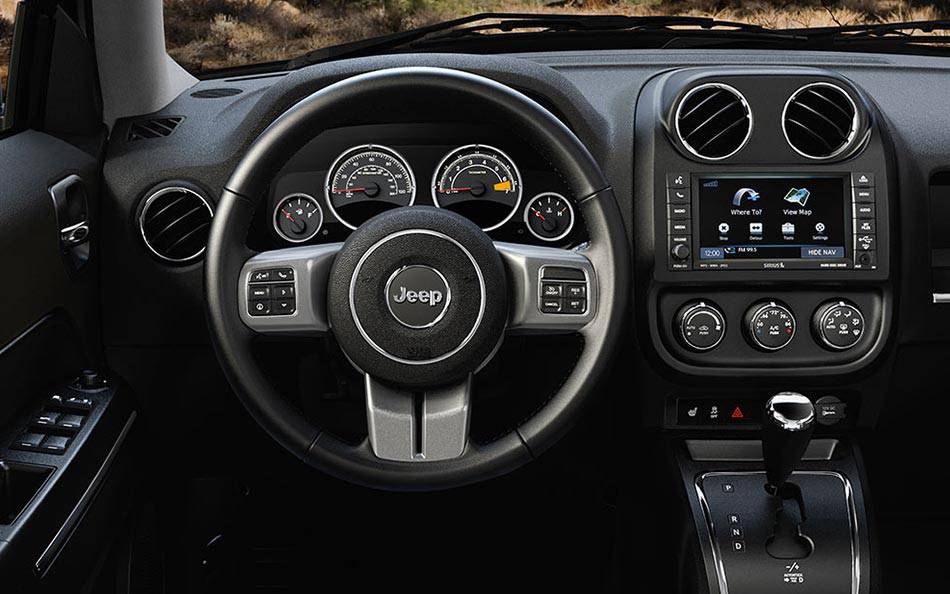 With a low price tag, the Patriot has a relatively powerful standard 158 horsepower, 2.0-liter four-cylinder engine which generates 141 pound-feet of torque. In the 4WD Sport and Latitude models, the 2.4L DOHC kicks up to 172 horsepower, creating 165 pound-feet of torque. Fuel economy is 21/28 city/highway mpg on the automatic transmission. The manual gets 23/30 mpg, and the CVT yields an EPA estimated 22/27 mpg.

Lower trims keep the starting MSRP under $17K with utility in the cabin, yet the Patriot is still a fun-to-drive five-passenger crossover. Flip-down liftgate speakers can be used when you open the rear hatch and feature a standard 4-speaker or available 368-watt 9-speaker set with a subwoofer.

Jeep's new crossover SUV takes drivers out on the trail in a reasonably priced ride that retains Jeep's classic rugged features and maneuverability.